http://helpeddieryan.com A Message from the Ryan Family
:
[In an airport recently I met Angie Ryan, mother of Marine Sgt. Eddie Ryan, who was shot twice in the head by friendly fire in 2005. She has remained at his side for 6 yrs., and this was her first trip away. Of course I thanked her for her son's service, as well as her own. If you are so inclined, go to the website and click onto Post a Comment to send your appreciation and wishes! It would mean a lot to them.]
It's me, Angie Ryan, mom of Marine Sgt. Eddie Ryan writing to give a great big thank you for your support and even more, your prayers.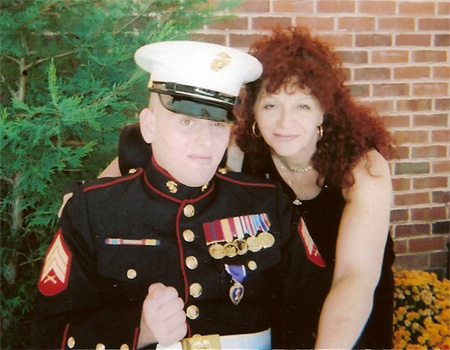 Marine Sgt. Eddie Ryan with his mom Angie outside of Helen Hayes Hospital after receiving his Purple Heart Medal.
Our family has been through a very painful journey, one that is sometimes overwhelming for us, so it becomes difficult for us to do things that otherwise would be easy to do.
As I write I feel totally blessed by all the prayers and support that we have and that my friends have been a big part of our strength.
Eddie is doing well and we are continuing his therapies at home. He presently has physical, occupational and speech therapies. Day in and day out he strives to be the Eddie he once was and still is, an awesome Marine. Eddie feels the power of love and prayers through the cards, letters, drawings and phone calls, they are like gold to him. People at home and abroad have been most generous. We thank you for your financial support.
------------------------------------------------------------------------------------------------------------
T
he Hill writes: T
he Obama administration has floated a transportation authorization bill that would require the study and implementation of a plan to tax automobile drivers based on how many miles they drive.
The plan is a part of the administration's Transportation Opportunities Act, an
undated draft
of which was obtained this week by
Transportation Weekly
.
http://thehill.com/blogs/floor-action/house/159397-obama-floats-plan-to-tax-cars-by-the-mile
-------------------------------------------------------------------------------------------------------------
T
he
UK Telegraph opines: T
he fumbled White House response to the death of Osama bin Laden – my colleague Toby Harnden
calls it "amateur hour"
– is the gift that keeps on giving to conspiracy theorists. The first thing to say is that most people in the West believe, and are glad, that bin Laden was killed by the Americans on Monday. If the reason Obama won't release the photograph is that US forces blew his head off and the gruesome results might make us throw up – well, we understand that; the administration's public agonising over whether to publish a picture comes across as clumsy rather than sinister. But try telling that to a conspiracy theorist.
http://blogs.telegraph.co.uk/news/damianthompson/100086524/the-strange-death-of-osama-bin-laden-why-the-conspiracy-theories-matter/
------------------------------------------------------------------------------------------------------------
B
ig Government reveals: If you are wondering why some folks are starting to question whether a college education is worth the cost, the video below goes a long way towards explaining it. Recently, the University of Missouri-St. Louis (UMSL) and the University of Missouri-Kansas City (UMKC) sponsored two college courses: Introduction to Labor Studies and Labor Politics and Society, to be taught simultaneously through a video conference between to two campuses.
The Professors are Judy Ancel, Director of Labor Studies at UMKC and Don Giljum, business manager for the International Union of Operating Engineers at Ameren UE in St. Louis. (Bonus: he is a member of the Communist Party.)
In the class, the Professors not only advocate the occasional need for violence and industrial sabotage, they outline specific tactics that can be used.
And yes, the schools, and the professors' salaries, are funded by taxpayers.
Watch the video in its entirety and you'll hear Communist Giljum (whose total compensation in 2010 was nearly $121,000) bragging about the tactics he's used to terrorize and intimidate companies and company CEOs, as well as his inciting a riot "that destroyed several police cars."
You'll also hear Judy Ancel instruct on how to convince union members that their group goals override their individual goals, as well as this gem:
When you have a crisis, you have an opportunity to introduce a shock—which is a massive change. Generally, if you're following the neo-liberal playbook, it's one that shifts power dramatically.
http://biggovernment.com/publius/2011/04/25/union-official-professor-teach-college-course-in-violent-union-tactics/ AND
https://mail.google.com/mail/?shva=1#inbox/12f931af7552890b
------------------------------------------------------------------------------------------------------------
[No, I don't expect you to fully read the following, but knowing that all these commissions will exist under Obamacare is important. Keep in mind that each commission will require many employees and office spaces. Aren't new government jobs wonderful?]
Below is a list of new boards and commissions created in the bill:


1. Grant program for consumer assistance offices (Section 1002, p. 37)
2. Grant program for states to monitor premium increases (Section 1003, p. 42)
3. Committee to review administrative simplification standards (Section 1104, p. 71)
4. Demonstration program for state wellness programs (Section 1201, p. 93)
5. Grant program to establish state Exchanges (Section 1311(a), p. 130)
6. State American Health Benefit Exchanges (Section 1311(b), p. 131)
7. Exchange grants to establish consumer navigator programs (Section 1311(i), p. 150)
8. Grant program for state cooperatives (Section 1322, p. 169)
9. Advisory board for state cooperatives (Section 1322(b)(3), p. 173)
10. Private purchasing council for state cooperatives (Section 1322(d), p. 177)
11. State basic health plan programs (Section 1331, p. 201)
12. State-based reinsurance program (Section 1341, p. 226)
13. Program of risk corridors for individual and small group markets (Section 1342, p. 233)
14. Program to determine eligibility for Exchange participation (Section 1411, p. 267)
15. Program for advance determination of tax credit eligibility (Section 1412, p. 288)
16. Grant program to implement health IT enrollment standards (Section 1561, p. 370)
17. Federal Coordinated Health Care Office for dual eligible beneficiaries (Section 2602, p. 512)
18. Medicaid quality measurement program (Section 2701, p. 518)
19. Medicaid health home program for people with chronic conditions, and grants for planning same (Section 2703, p. 524)
20. Medicaid demonstration project to evaluate bundled payments (Section 2704, p. 532)
21. Medicaid demonstration project for global payment system (Section 2705, p. 536)
22. Medicaid demonstration project for accountable care organizations (Section 2706, p. 538)
23. Medicaid demonstration project for emergency psychiatric care (Section 2707, p. 540)
24. Grant program for delivery of services to individuals with postpartum depression (Section 2952(b), p. 591)
25. State allotments for grants to promote personal responsibility education programs (Section 2953, p. 596)
26. Medicare value-based purchasing program (Section 3001(a), p. 613)
27. Medicare value-based purchasing demonstration program for critical access hospitals (Section 3001(b), p. 637)
28. Medicare value-based purchasing program for skilled nursing facilities (Section 3006(a), p. 666)
29. Medicare value-based purchasing program for home health agencies (Section 3006(b), p. 668)
30. Interagency Working Group on Health Care Quality (Section 3012, p. 688)
31. Grant program to develop health care quality measures (Section 3013, p. 693)
32.
Center for Medicare and Medicaid Innovation (Section 3021, p. 712)
33. Medicare shared savings program (Section 3022, p. 728)
34. Medicare pilot program on payment bundling (Section 3023, p. 739)
35. Independence at home medical practice demonstration program (Section 3024, p. 752)
36. Program for use of patient safety organizations to reduce hospital readmission rates (Section 3025(b), p. 775)
37. Community-based care transitions program (Section 3026, p. 776)
38. Demonstration project for payment of complex diagnostic laboratory tests (Section 3113, p. 800)
39. Medicare hospice concurrent care demonstration project (Section 3140, p. 850)
40. Independent Payment Advisory Board (Section 3403, p. 982)
41. Consumer Advisory Council for Independent Payment Advisory Board (Section 3403, p. 1027)
42. Grant program for technical assistance to providers implementing health quality practices (Section 3501, p. 1043)
43. Grant program to establish interdisciplinary health teams (Section 3502, p. 1048)
44. Grant program to implement medication therapy management (Section 3503, p. 1055)
45. Grant program to support emergency care pilot programs (Section 3504, p. 1061)
46. Grant program to promote universal access to trauma services (Section 3505(b), p. 1081)
47. Grant program to develop and promote shared decision-making aids (Section 3506, p. 1088)
48. Grant program to support implementation of shared decision-making (Section 3506, p. 1091)
49. Grant program to integrate quality improvement in clinical education (Section 3508, p. 1095)
50. Health and Human Services Coordinating Committee on Women's Health (Section 3509(a), p. 1098)
51. Centers for Disease Control Office of Women's Health (Section 3509(b), p. 1102)
52. Agency for Healthcare Research and Quality Office of Women's Health (Section 3509(e), p. 1105)
53. Health Resources and Services Administration Office of Women's Health (Section 3509(f), p. 1106)
54. Food and Drug Administration Office of Women's Health (Section 3509(g), p. 1109)
55. National Prevention, Health Promotion, and Public Health Council (Section 4001, p. 1114)
56. Advisory Group on Prevention, Health Promotion, and Integrative and Public Health (Section 4001(f), p. 1117)
57. Prevention and Public Health Fund (Section 4002, p. 1121)
58. Community Preventive Services Task Force (Section 4003(b), p. 1126)
59. Grant program to support school-based health centers (Section 4101, p. 1135)
60. Grant program to promote research-based dental caries disease management (Section 4102, p. 1147)
61. Grant program for States to prevent chronic disease in Medicaid beneficiaries (Section 4108, p. 1174)
62. Community transformation grants (Section 4201, p. 1182)
63. Grant program to provide public health interventions (Section 4202, p. 1188)
64. Demonstration program of grants to improve child immunization rates (Section 4204(b), p. 1200)
65. Pilot program for risk-factor assessments provided through community health centers (Section 4206, p. 1215)
66. Grant program to increase epidemiology and laboratory capacity (Section 4304, p. 1233)
67. Interagency Pain Research Coordinating Committee (Section 4305, p. 1238)
68. National Health Care Workforce Commission (Section 5101, p. 1256)
69. Grant program to plan health care workforce development activities (Section 5102(c), p. 1275)
70. Grant program to implement health care workforce development activities (Section 5102(d), p. 1279)
71. Pediatric specialty loan repayment program (Section 5203, p. 1295)
72. Public Health Workforce Loan Repayment Program (Section 5204, p. 1300)
73. Allied Health Loan Forgiveness Program (Section 5205, p. 1305)
74. Grant program to provide mid-career training for health professionals (Section 5206, p. 1307)
75. Grant program to fund nurse-managed health clinics (Section 5208, p. 1310)
76. Grant program to support primary care training programs (Section 5301, p. 1315)
77. Grant program to fund training for direct care workers (Section 5302, p. 1322)
78. Grant program to develop dental training programs (Section 5303, p. 1325)
79. Demonstration program to increase access to dental health care in underserved communities (Section 5304, p. 1331)
80. Grant program to promote geriatric education centers (Section 5305, p. 1334)
81. Grant program to promote health professionals entering geriatrics (Section 5305, p. 1339)
82. Grant program to promote training in mental and behavioral health (Section 5306, p. 1344)
83. Grant program to promote nurse retention programs (Section 5309, p. 1354)
84. Student loan forgiveness for nursing school faculty (Section 5311(b), p. 1360)
85. Grant program to promote positive health behaviors and outcomes (Section 5313, p. 1364)
86. Public Health Sciences Track for medical students (Section 5315, p. 1372)
87. Primary Care Extension Program to educate providers (Section 5405, p. 1404)
88. Grant program for demonstration projects to address health workforce shortage needs (Section 5507, p. 1442)
89. Grant program for demonstration projects to develop training programs for home health aides (Section 5507, p. 1447)
90. Grant program to establish new primary care residency programs (Section 5508(a), p. 1458)
91. Program of payments to teaching health centers that sponsor medical residency training (Section 5508(c), p. 1462)
92. Graduate nurse education demonstration program (Section 5509, p. 1472)
93. Grant program to establish demonstration projects for community-based mental health settings (Section 5604, p. 1486)
94. Commission on Key National Indicators (Section 5605, p. 1489)
95. Quality assurance and performance improvement program for skilled nursing facilities (Section 6102, p. 1554)
96. Special focus facility program for skilled nursing facilities (Section 6103(a)(3), p. 1561)
97. Special focus facility program for nursing facilities (Section 6103(b)(3), p. 1568)
98. National independent monitor pilot program for skilled nursing facilities and nursing facilities (Section 6112, p. 1589)
99. Demonstration projects for nursing facilities involved in the culture change movement (Section 6114, p. 1597)
100. Patient-Centered Outcomes Research Institute (Section 6301, p. 1619)
101. Standing methodology committee for Patient-Centered Outcomes Research Institute (Section 6301, p. 1629)
102. Board of Governors for Patient-Centered Outcomes Research Institute (Section 6301, p. 1638)
103. Patient-Centered Outcomes Research Trust Fund (Section 6301(e), p. 1656)
104. Elder Justice Coordinating Council (Section 6703, p. 1773)
105. Advisory Board on Elder Abuse, Neglect, and Exploitation (Section 6703, p. 1776)
106. Grant program to create elder abuse forensic centers (Section 6703, p. 1783)
107. Grant program to promote continuing education for long-term care staffers (Section 6703, p. 1787)
108. Grant program to improve management practices and training (Section 6703, p. 1788)
109. Grant program to subsidize costs of electronic health records (Section 6703, p. 1791)
110. Grant program to promote adult protective services (Section 6703, p. 1796)
111. Grant program to conduct elder abuse detection and prevention (Section 6703, p. 1798)
112. Grant program to support long-term care ombudsmen (Section 6703, p. 1800)
113. National Training Institute for long-term care surveyors (Section 6703, p. 1806)
114. Grant program to fund State surveys of long-term care residences (Section 6703, p. 1809)
115. CLASS Independence Fund (Section 8002, p. 1926)
116. CLASS Independence Fund Board of Trustees (Section 8002, p. 1927)
117. CLASS Independence Advisory Council (Section 8002, p. 1931)
118. Personal Care Attendants Workforce Advisory Panel (Section 8002(c), p. 1938)
119. Multi-state health plans offered by Office of Personnel Management (Section 10104(p), p. 2086)
120. Advisory board for multi-state health plans (Section 10104(p), p. 2094)
121. Pregnancy Assistance Fund (Section 10212, p. 2164)
122. Value-based purchasing program for ambulatory surgical centers (Section 10301, p. 2176)
123. Demonstration project for payment adjustments to home health services (Section 10315, p. 2200)
124. Pilot program for care of individuals in environmental emergency declaration areas (Section 10323, p. 2223)
125. Grant program to screen at-risk individuals for environmental health conditions (Section 10323(b), p. 2231)
126. Pilot programs to implement value-based purchasing (Section 10326, p. 2242)
127. Grant program to support community-based collaborative care networks (Section 10333, p. 2265)
128. Centers for Disease Control Office of Minority Health (Section 10334, p. 2272)
129. Health Resources and Services Administration Office of Minority Health (Section 10334, p. 2272)
130. Substance Abuse and Mental Health Services Administration Office of Minority Health (Section 10334, p. 2272)
131. Agency for Healthcare Research and Quality Office of Minority Health (Section 10334, p. 2272)
132. Food and Drug Administration Office of Minority Health (Section 10334, p. 2272)
133. Centers for Medicare and Medicaid Services Office of Minority Health (Section 10334, p. 2272)
134. Grant program to promote small business wellness programs (Section 10408, p. 2285)
135. Cures Acceleration Network (Section 10409, p. 2289)
136. Cures Acceleration Network Review Board (Section 10409, p. 2291)
137. Grant program for Cures Acceleration Network (Section 10409, p. 2297)
138. Grant program to promote centers of excellence for depression (Section 10410, p. 2304)
139. Advisory committee for young women's breast health awareness education campaign (Section 10413, p. 2322)
140. Grant program to provide assistance to provide information to young women with breast cancer (Section 10413, p. 2326)
141. Interagency Access to Health Care in Alaska Task Force (Section 10501, p. 2329)
142. Grant program to train nurse practitioners as primary care providers (Section 10501(e), p. 2332)
143. Grant program for community-based diabetes prevention (Section 10501(g), p. 2337)
144. Grant program for providers who treat a high percentage of medically underserved populations (Section 10501(k), p. 2343)
145. Grant program to recruit students to practice in underserved communities (Section 10501(l), p. 2344)
146. Community Health Center Fund (Section 10503, p. 2355)
147. Demonstration project to provide access to health care for the uninsured at reduced fees (Section 10504, p. 2357)
148. Demonstration program to explore alternatives to tort litigation (Section 10607, p. 2369)
149. Indian Health demonstration program for chronic shortages of health professionals (S. 1790, Section 112, p. 24)*
150. Office of Indian Men's Health (S. 1790, Section 136, p. 71)*
151. Indian Country modular component facilities demonstration program (S. 1790, Section 146, p. 108)*
152. Indian mobile health stations demonstration program (S. 1790, Section 147, p. 111)*
153. Office of Direct Service Tribes (S. 1790, Section 172, p. 151)*
154. Indian Health Service mental health technician training program (S. 1790, Section 181, p. 173)*
155. Indian Health Service program for treatment of child sexual abuse victims (S. 1790, Section 181, p. 192)*
156. Indian Health Service program for treatment of domestic violence and sexual abuse (S. 1790, Section 181, p. 194)*
157. Indian youth telemental health demonstration project (S. 1790, Section 181, p. 204)*
158. Indian youth life skills demonstration project (S. 1790, Section 181, p. 220)*
159. Indian Health Service Director of HIV/AIDS Prevention and Treatment (S. 1790, Section 199B, p. 258)*